Background
Born and raised in Marietta, GA, I have been blessed to have been active in a church family all my life. After earning an undergraduate degree from Georgia Southern University and two master's degrees from Georgia State University, I pursued a fast track career in Healthcare Administration. Over the course of 5 years, I got married and started a family, as well as worked my way into a management role at Hewitt Associates, administering Health & Welfare benefits for Fortune 500 companies. Success was not far off and the future was looking hopeful.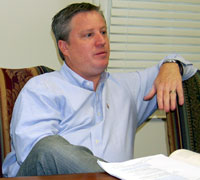 Within 18 months I noticed my discontent with life. I had surrendered my life (or so I thought) to Jesus Christ a couple of years before but things in my life were not where I wanted them to be. I was struggling in my job and blaming my discontent on my employer. Everything else in my life was secure. A loving wife, wonderful children, growing responsibilities at church, but something was missing. I knew it was my job…I thought I just wasn't in the "right" place. I started sharing those frustrations with men in a small group that I was attending. One of the men asked me to breakfast which resulted in a commitment to meet weekly with him. He allowed God to use him to develop a discipling relationship with me.
This weekly meeting lasted for about a year. In the end, I discovered that I had not yet surrendered my whole life to Christ. I was simply giving him bits and pieces. My mentor and friend asked, "How are you serving the Lord in all areas of your life?" The answer seemed clear: I was not incorporating God's purpose for me at work.
God opened my heart to a new approach and within a short time, work became my mission field. I began discipling other men, whom I discovered faced a multitude of challenges. Opportunities to witness became a daily encounter. It was then that God began to prune me for what I now know as His mission in the Men Abiding in Christ (MAC) Ministry. It became clear that He wanted me to do more one-on-one discipling work with men that He brought into my life. Next thing I knew, my parallel career was in full swing and I was meeting with other men between three and five times per week. It was also around this time that I was asked to help lead the Men's Ministry at my church which consisted of a 60-80 men meeting in small groups on Saturday mornings twice a month. These small groups were witnessing changes in each others lives. God was really making a difference in the way these men looked at their marriages, children, careers, churches, and relationships.
It wasn't long before I found that again, I had a strong desire to leave the corporate world. This time, however, it was because of His calling. God wanted me to use my days to meet with men and help them develop disciplines which would lead to a life of significance and seek out churches who could use my assistance in getting men into places to be discipled.
I sought affirmation from men I knew at work, at church, in my family, with small groups and friends. God led a group of men together who became a Board of Directors committed to launching MAC Ministries.
I look forward to watching God develop and grow this ministry for His purpose. May our Lord and Savior, Jesus Christ, be praised!
The Environment
R. Kent Hughes, author of Disciplines of a Godly Man, states the reason for writing his book is twofold:
First, in today's world and Church, disciplined Christian lives are the exception, not the rule.
Second, men are so much less spiritually inclined and spiritually disciplined than women.
Anyone who subscribes to Pat Morley's "A Look in the Mirror" email distribution will know that there is a real need for discipling men. Many men are focused on being super-dad, perfect husband, contributing churchman, and a good provider rather than being dependent on Christ to produce these results.
Morley says the consequences of this are, for every 10 men in a church:
9 will have kids who leave the church
8 will not find their jobs satisfying
6 pay the monthly minimum on their credit card balances
5 have a major problem with pornography
4 will get divorced (affecting 1,000,000 children per year)
1 has a biblical worldview
10 will struggle to balance work and family
In my personal experience, men share that they "just don't have anyone to talk to". Men desire to be in a growing relationship with the Lord, wife, kids, and friends, but we are too busy chasing success. As Bob Buford says in his book Half Time, we need to chase significance versus success. I have found the only way to do this is to abide in Christ. Surrender all to Christ. Become fully-dependent on the Lord.
I am also convinced by statistics that men are called to be influential. The following statistics, provided by the Barna Group, reveals the influence a man has in his family regarding his faith.
When the child is the first to come to Christ: 4% of the time the other family members follow.
When a wife/mother is the first to come to Christ: 13% of the time the other family members follow.
When a father/husband is the first to come to Christ: 95% of the time the other family members follow.
So now what?
"Go therefore and make disciples of all nations" (Matthew 28:19).