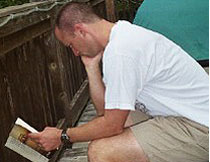 If you feel called to support the Ministry through prayer, donations or connecting us with your church, please call Pat MacPherson at 770-655-1711. Contact Us >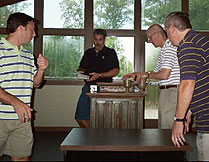 How can you support Men Abiding in Christ Ministries?
Through Prayer
A member of a dedicated prayer team prays each day of every month for the protection, longevity and growth of the Ministry.
One of the board members sends out specific prayer requests to a network of people committed to lifting the Ministry, its needs, and the needs of those it touches in prayer.
Through Financial Support
Men Abiding in Christ Ministries is sustained through the donations of individuals and church partners. The majority of the financial support comes from our Support Team consisting of individuals and churches who have committed to give a specific amount on a regular basis (monthly, quarterly, annually). Donors are viewed as partners in this ministry because of their role in enabling the ministry to carry out its purpose.
Men Abiding in Christ Ministries is a not-for-profit, 501(c)3 organization. All donations to the Ministry can be considered tax deductible.
Through GoodSearch.com
Support Men Abiding in Christ Ministries by searching the Internet through GoodSearch.com. Please select "Men Abiding in Christ Ministries" as your designated cause.