MAC Ministries needs your support for the 2022 MAC Matching Fundraiser
During the month of December, all donations to the Ministry will be matched – up to $25,000.
Donations can be made by credit card through PayPal. (Please consider adding 2% to your donation to cover payment processing fees.)
Your donation to MAC Ministries can go further in the month of December. Friends of the Ministry have agreed to match donations to the Ministry up to a total of $25,000.
To support MAC Ministries, mail your check to:
MAC Ministries
PMB #104
1000 Whitlock Ave., Suite 320
Marietta, GA 30064
Thank you for your support! Find other ways you can support Men Abiding in Christ Ministries throughout the year.
God at Work Through Men Abiding in Christ Ministries
Thoughts from Gringo Mission Trip
It was a blessing to attend the 5th annual Gringo Soccer Camp. We had a total of 13 folks participate from FPC. Five were first time participants and one had not been since the first Gringo Soccer Camp which took place in May 2010.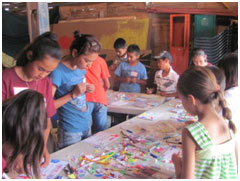 "Faith Group Initiates Construction of $500K Mexican Medical Facility"
The Marietta Daily Journal profiled the continuous mission work of Men Abiding in Christ Ministries and local church congregations in Renacimiento, Mexico (a community on the outskirts of the suburb of Garcia). Read the article in the MDJ about these "Gringo Mission Trips."
Small Group Ministries
See some pictures from an overnight retreat that my Tuesday night small group enjoyed recently. This group of 11 men started meeting back in July. This is a unique group in that most all of the men have known each other since the 2nd grade. It has really been a privilege to lead and be a part of this group.